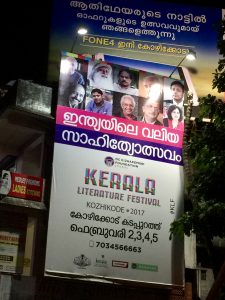 I was delighted to take part in Kerala Literature festival. I had a wonderful time! My hosts were terrific, I loved meeting international writers  as well as the local Malaylis and those from around India.
I was warmly welcomed, looked after and honored including taking part in the inauguration and lighting of one of the divas.
What a lovely atmosphere for four days. The beach setting was marvelous. Here are some of the pictures of the beach.
It was a pleasure to meet many writers including my friend Urvashi Ji of Zubaan Books, Ambi from Mumbai who I had met at Jaipur Literature Festival once as well as the famous writer and politician Shashi Tharoor and his son.
Here with a group of writers, students, volunteers as well as the festival Director Professor Satchi Nandan and CEO of DC Books- Ravi DeeCee (The Chief Facilitator of the Festival) with my peace banner – "Spread Hummus Not Hate".
It was wonderful to be hosted by a lovely team of people. Ravi, Sumitha, Amitha, Lijeesh and Rajina.
I launched my book at the festival. Here signing copies for readers as well as looking at other books at the book shop.
I loved meeting the students and school children, taking selfies, group photos and signing dozens of scrap books.
There was a lot media coverage, newspapers, magazines. I enjoyed interacting with the interviewers and answers their questions about writing, Pakistan, being Muslim, about women & Trump.
You can see my literary full session below: