A swift update to keep you posted on forthcoming events…
Busy times ahead..
After a blissful couple of months completing the manuscript for 'The Revolt' due out later this year,  its all go again…
June 7th – An Evening with Qaisra Shahraz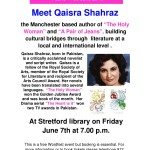 WordFest Event, Stretford Library, Manchester
Qaisra will be launching a new collection of stories ' A Pair of Jeans & Other stories',
 and will also read a short extract from her new novel 'The Revolt' (due out in October 2013)
The event is free, but you must email and reserve your places..
For more details click here
June 25-29th Makassar International Writers Festival 2013
Makassar is the provincial capital of South Sulawesi, Indonesia and home to the annual International Writers festival.
 Qaisra has been invited to be a part of the programme  for 2013, and  is looking forward to meeting her readers and other writers at the Festival.
Both 'The Holy Woman' and 'Typhoon'  are  immensely popular in Indonesia with
'The Holy Woman' (Perempuan Suci, its Indonesian title)  now in its Gold Edition!
You can follow the Makassar Writers festival on Twitter  at @makassarwriters
If you'd like more information about the festival please follow the link below :
July 10th KarlsRuhe IBZ KulturDialog

Imperial Avenue 12d, 76135 Karlsruhe
IBZ is an organisation, based in KarlsRuhe, Germany,  which promotes cultural dialogue on political, inter-religious and intercultural issues.
The short story 'A  Pair Of Jeans'  is  a regular part of education in Germany now,  as for many years  it has been included in  literature studied for The Abitur.
Its no surprise then that Qaisra is a frequent visitor to Germany where  she is often invited to speak and lecture on her work.
You can catch Qaisra in KarlsRuhe on July 10th….
For more details  about IBZ and the programme please click here
and finally…..
From Longsight to Lahore!
A Pair Of Jeans and Other Stories ….
Just a reminder that this is currently on promotion on Kindle until the end of May 2013 ..99p..rather than £3.35.
You can find more details here….
A Pair of Jeans and Other Stories – Kindle Edition