Introduction
On 11 July, in 1995, Bosnian Serb forces, led by General Ratko Mladić, systematically massacred 8,372 men and boys. It was the greatest atrocity on European soil since the Second World War. These individuals are more than just a statistic; they were the fathers, husbands, sons and loved ones of those that were left behind.
Remembering Srebrenica honours their memory, and the courage of those left behind. "Remembering Srebrenica" charity aims to use the lessons from the terrible events in Srebrenica to create a better world, one in which our differences become our strengths, and the only thing left intolerable is injustice.
The International Court of Justice (ICJ) and the International Criminal Tribunal for the Former Yugoslavia (ICTY) have both ruled that the mass execution constituted genocide. In 2009, the European Parliament declared 11 July the official day of remembrance for the victims of the Srebrenica genocide across the EU.
SREBRENICA – Along the road to death to Freedom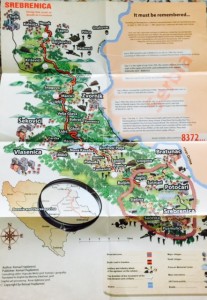 copyright by Kemail Hajdarevic
According to UN resolutions, Srebrenica was proclaimed a "safe" and demilitarized zone on April 16, 1993. On July 11, 1995, about 4 pm. Srebrenica fell under Serb control.
From July 1995 a genocide took place in Srebrenica, marked by mass and planned murdering of Bosniac men and children. The genocide was planned and conducted under the command of general Ratko Mladic and the army of Republic of Srpska, and a number of paramilitary units took part in the genocide, with "Scorpions" being the most famous among them, and controlled by the Ministry of Internal Affairs of Serbia.

UK Women's Delegation to Bosnia "Remembering Srebrenica"
Our women's delegation consisted of women of all backgrounds, faiths and ages led by Amelia Handy, who is the Project Officer for 'Remembering Srebrenica'. Our local organisers and leaders were Katie Parker & Aisha Mirza. As well as our hosts, Resad & Tamar in Bosnia, all three, did a fantastic job in making our experience so memorable and valuable.
London Airport
Our women's delegation to Bosnia started off in London. Here we are at the London Heathrow Airport holding posters saying "Remembering SREBRENICA" and "End Violence against women". We stayed in a hotel together where we had a nice meal the night before including celebrating the birthday of one of our delegates Heather Fletcher.
Guided Tour of Sarajevo
Straight after landing in Sarajevo we were taken on a wonderful guided tour of the marvelous city center where East meets West. As you can see from the picture 'SPIN & GO – Sarajevo meeting of cultures'. We visited the shops, the local grand mosque & the madrasa. We also heard the history of the old Jewish synagogue. The shops reminded me of Istanbul. There is a picture of us standing in the main square. It was a very icy evening!
Dinner
We thoroughly enjoyed our dinner in a cosy restaurant in the city center with our hosts Resad Trbonja and Tamara Zablocka.
Related posts to Remembering Srebrenica:
Day 1: http://qaisrashahraz.com/womens-delegation-to-srebrenica-day-1/
Day 2: http://qaisrashahraz.com/womens-delegation-to-srebrenica-day-2/
Day 3: http://qaisrashahraz.com/womens-delegation-to-srebrenica-day-3/
Day 4: http://qaisrashahraz.com/womens-delegation-to-srebrenica-day-4/