10th May 2014
I am on a train, travelling back to Marrakesh. It's time to go home.
My wonderful friends and hosts in Rabat accompanied me to the station and saw me off. I am
reflecting on what a wonderful week it has been – spending it with two such hospitable families in Khemisset and Fes.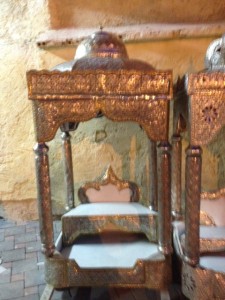 They took me everywhere, introduced me to Moroccan life, including having the honour of entering a family's home in a village and learn about their way of life, including growing mint, keeping bees and weaving carpets and rugs. I  learnt so much from different people. I  happily scribbled away notes in my special, expensive, brown book, brought from Piccadilly Gardens, and made in Palestinian with a pure leather cover.  It was solely to be used for this research-about Moroccan life.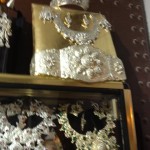 The previous evening, on Friday even the grand mother of my main host, Nada, got fully involved with my research. It was absolutely great to listen to her stories of old-time, of weaving woollen 'souf' carpets, funeral rites. 
She showed me the pan she used to bake bread. I managed to learn through her grand-daughter as an interpreter about many village rituals that took place in a Moroccan wedding. There is a village wedding in my novel. She happily described along with her daughter, all the rituals including about what food was served at the wedding and who did what. It was lovely to hear about the groom's family coming, singing and bearing many gifts,  including, dates, sugar, milk, and clothes to the bride's home.
In particular I was delighted to  learn about the role of the 'Negaffas',  the bride attendants. Who are they – I asked? Well – they are a group of women, led by the main Negaffa who see to a bride's every need. This includes deciding on and buying clothes and jewellery for the bride including up to seven gowns, 'Kaftans' or 'Takshitas' in different colours, ending with the white one she wore, to actually staying with her for a few days, in her new home, to enable her to settle in.
I listened with wrapt attention to all this information, because – wait for it- one of my main heroines, Imane is supposed to be a Negaffa. As a result of this trip she is no longer just the Henna Painter, but  a fully fledged wedding attendant, a professional 'Negaffa' involved in this fairly lucrative business. My wonderful host Zohor, in Fes took me to the wedding 'souk'  where we saw everything for weddings and had a chance to meet real Negaffas, who showed us photos of real brides, dressed in all their glorious finery and see the wedding palanquins where the brides are carried in.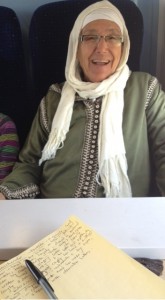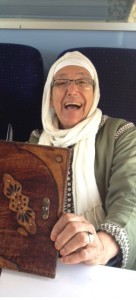 On the train, I was in for a treat – my research  continued as I sat in front of this

jolly elderly woman, who had this wonderful knack of playing with her grand-daughter as well as teasing her a lot and giggling away. Her infectious laughter had us all in splits at times! I knew there and then that this lady called Khadija, larger than life would enter my novel. 
 
I started to scribble notes, about her clothes, appearance and asked her permission
to take  a photo and use for this blog. She very happily nodded her head, and enjoyed every bit of it, including posing with my brown book in which she had just entered. You will meet her
in the 'village' chapters in my latest novel that I am writing. And of course can see her here.
 
For the moment meet her holding my 'precious' brown book with all the notes about 
Moroccan life.
*******************************************************************************
Writing Diaries is my current blog where you can follow how I am getting on with writing my latest novel, provisionally named The Henna Painter. I hope to be posting every so often- so you'll be getting live updates on my progress and perhaps even a sneak peak here or there of the actual manuscript when it's in a fit shaped to be shared!
Writing this novel has been a challenge as it is set in Morocco and Paris- another world, another culture with different customs and way of life. I love Morocco and the people of the country who I have made friends with. Some of whom are helping me with the research for this novel.
*******************************************************************************